Dementia team awarded £11k to trial brain stimulation technique
26 Jun 2012
University of Manchester scientists are launching a pilot study to investigate the effects of cognitive training combined with transcranial magnetic stimulation – a technique used to stimulate different brain regions – in people with mild memory loss and people with Alzheimer's disease.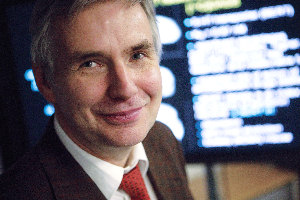 The six-week trial at the Manchester Mental Health and Social Care Trust is being funded with an £11,830 grant from Alzheimer's Research UK, the UK's leading dementia research charity, and will use technology developed by Neuronix Medical, based in Israel.
Led by Prof Karl Herholz, the team will recruit six volunteers with either amnestic mild cognitive impairment (aMCI) – a condition that causes problems with memory, but not to an extent that interferes with everyday life – or mild to moderate Alzheimer's disease. Roughly half of people with aMCI will go on to develop dementia, usually Alzheimer's disease.
The volunteers will participate in a series of sessions using Neuronix Medical's Non Invasive Cortical Enhancer (NICE) technology, which combines cognitive training exercises with repetitive transcranial magnetic stimulation (rTMS), a non-invasive technique that uses a magnetic field to stimulate specific areas of the brain. The researchers aim to investigate whether these combined activities may help stimulate long-term connections between brain cells, potentially helping people to better cope with the early symptoms of Alzheimer's.
The participants will be given a series of cognitive tests at the beginning and end of the study, and the researchers also plan to use sophisticated brain scans that measure glucose metabolism – a marker of brain activity – to test the effects of the technique. It's hoped this preliminary study will lead to a large-scale trial to investigate the method's long-term effects.
Professor Herholz said: "We have been intrigued by the results of prior clinical trials using the NICE technology in patients with Alzheimer's disease. We feel that such impressive findings call for further research, and running a study at The University Manchester's Wolfson Molecular Imaging Centre will provide more insight into the technology's effectiveness.
"Despite a great deal of research, Alzheimer's disease still presents a huge unmet medical need, and new ideas for treatment which show promise are very rare indeed. In this study we expect to explore the changes in brain activity induced by this novel treatment."
Dr Simon Ridley, Head of Research at Alzheimer's Research UK, said: "We're pleased to be supporting this study, which will tell us more about the potential effects of this technique for people at risk of Alzheimer's disease. Pilot studies like this are crucial for opening up new avenues for research, and this work should provide a basis for subsequent larger trials.
"With 820,000 people affected by dementia in the UK, including more than 4,000 people in Manchester alone, we urgently need to find new treatments for the condition – that means we must invest in research like this."
Eyal Baror, CEO of Neuronix Medical, said: "We are very happy to have a prestigious institute such as The University of Manchester join our growing list of study sites, which already includes leading institutes such as BIDMC, Harvard University, Boston, USA. This milestone marks the initiation of our clinical activities in the UK, and constitutes a vote of confidence in the efficacy that the NICE technology has already shown."
Ends