Poetry in motion for London 2012
26 Jun 2012
Schoolchildren took part in a poetry triathlon to help the University celebrate this year's Olympic Games.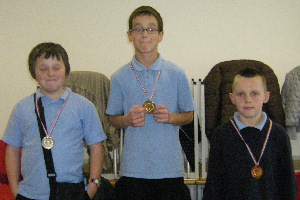 Year Six students from St Mary's C of E Junior School in Moston first wrote a haiku about Usain Bolt – then had to recite it faster than Bolt's 9.58 second 100m sprint! Secondly the youngsters were challenged to a relay to put in order a mixed up verse of Bluebottle by Judith Nicholls line by line. Finally they wrote an Olympic poem to inspire a British contender in the rhyme and rhythm of the 400m hurdles.
The workshop – designed and delivered by Dr Michael Sanders, Senior Lecturer in English and American Studies – was part of the Primary Programme to raise awareness of and aspirations to higher education, run by Alison Gregory, Widening Participation Officer in Student Recruitment and International Development.
Thirty children took part, with Stephen Sheridan taking gold, James Collier silver and Kane Stockley  bronze.
Their Deputy Headteacher, Jane Winterbottom, said: "The children were completely captivated by the visit and their enthusiasm for poetry was heartening to see. I'm sure that when they're watching the Olympics this summer they will remember their very own Poetry Olympics."
There will be a second Olympic Poetry workshop on 28 June with St Augustine's School, Monsall.
For more information, visit: