Phil Packer MBE brings 'BRIT 2012' Challenge to University of Manchester
19 Jun 2012
Phil Packer was told he might never walk again due to a spinal injury, but he has just completed 1013 miles out of an epic 2,012 mile challenge. Now, he's coming to Manchester.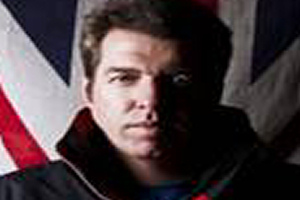 The University is delighted to be able to make its facilities available to Phil and his team as his "BRIT 2012 Challenge" walk arrives in the North West.  We are urging staff and students to join him in this important and inspirational endeavour, commencing at 12 noon from the Old Quadrangle on Thursday 21 June.

After suffering a severe spinal cord injury in 2008 whilst serving with Her Majesty's Forces, walking 8-10 miles for Phil is the equivalent of doing a marathon for anyone without a spinal cord injury. 

Phil will walk four miles at The University as part of his journey through the North West, proving that "Anything is possible" in line with the motto of his charity, the British Inspiration Trust (BRIT), as he aims to raise £15m to build the BRIT Centre of Inspiration for young people facing adversity.     
In 2009 he rowed the Channel, walked the London Marathon over 14 days, and hauled himself up El Capitan. After raising £1.3 million for the wounded, he became Fundraiser of the Year at the Pride of Britain Awards and was given the Helen Rollason Award at the BBC Sports Personality of the Year.
On his journey, Phil is looking forward to meeting and talking to young people and charities within the local community who will hopefully join him on the challenge.
Through the BRIT 2012 Challenge, Phil aims to:
Raise awareness around the British Inspiration Trust a charity for charities Phil Packer founded to help young people facing adversity to regain self-worth, self-belief and self-confidence;
  
Continue to bring charities and business together to create a legacy for young people that has the potential to redefine how charities work together;
  
Raise £15 million in 2012 to fund the build of the BRIT Centre of Inspiration – a nationwide rehabilitation facility planned to be built in West Sussex that will bring young people nominated by BRIT's 50 current charity partners under one roof for residential courses to help reshape their lives, inspired by a number of high-profile inspirational figures, including Sir Ranulph Fiennes OBE, Ade Adepitan and Sir Richard Branson, who have pledged their support and time to the Centre of Inspiration;
  
Meet and inspire young people facing physical and mental adversity, deprivation, medical conditions, injury and also young carers on his 300+ day journey through Great Britain & Northern Ireland;
   
Invite every charity to join the free BRIT map at http://www.britishinspirationtrust.org.uk which is a signpost for young people to find support groups and charities in their local area. As an incentive, one of the charities will receive a cheque for £2,012 on the final day of Phil's walk following a draw, which they can put towards their own charity. Phil hopes every charity who joins the map will partner with BRIT. 
This 2,012 mile journey started on the 24 January and the British Inspiration Trust (BRIT) marks Phil's 'new life' dedicated to the cause of young people who face adversity – a charity for charities that to date has been able to operate through gifted support due to its minimal overheads and the fact the Phil draws no wage.
The need for a BRIT Centre of Inspiration for charities & young people facing their darkest times is gaining support from young people, charities and communities wherever Phil walks and so is an invitation for 2012 businesses to come together and pledge their support to build this legacy for young people.
Phil is making his way through locations chosen by young people in every county of England, Northern Ireland, Scotland, and Wales, including Jersey, Guernsey and the Isle of Man, and will be finishing the challenge in London in mid-December 2012.  On the way, he is meeting young people who are facing physical and mental adversity, from community groups and charities, as well as youth from schools, colleges and universities who are joining Phil at specific host location where he walks.
Walking 2,012 miles throughout 2012 is an enormous challenge for Phil.
Dr Angela Gall from the London Spinal Injury Centre said: "The energy Phil uses when walking is three to four times that of someone without a spinal cord injury. This means that walking for Phil is very effortful; he uses a lot of energy and puts additional stress on his musculoskeletal system.  Eight to 10 miles a day is a fantastic achievement and will require a great deal of effort and determination.  Phil is walking an equivalent of a marathon-distance effort a day."
Phil Packer said: "This is about providing a physical legacy for our young people who face their darkest times and in a very special year including Her Majesty the Queen's Jubilee Year and London 2012. I hope that 2,012 businesses will show their support of our young people who face adversity by creating a Centre of Inspiration together. I also hope to involve young people throughout the year and encourage teams to help charities within their communities. I look forward to hearing from charities and young people throughout the country that need support or would like to show their support for the BRIT cause."
Phil has been selected as an honorary torchbearer for the London Olympics and will be carrying the Olympic Flame on 25 July 2012, the day before the London 2012 Olympic Games Opening Ceremony, as he continues to inspire people across Britain.

If you would like to join Phil on Thursday, his route will be via:
The Old Quad, Manchester Museum, Martin Harris Centre, Bridgeford Street, Oxford Road, the Aquatics Centre, Grosvenor St, the Sugden Centre, under the Mancunian Way to North Campus, right into Whitworth Street, a loop around the Sackville Street Building via Granby Row, to Upper Brook Street, Alan Turing Building, Kilburn Building, Roscoe Building, Dover Street Building, Grafton Street, Manchester Eye Hospital, Whitworth Art Gallery, into Whitworth Park, past the Contact Theatre, left at Samuel Alexander Building and back to the Old Quad.