Midwifery professor made a Dame in Birthday Honours
16 Jun 2012
Professor Tina Lavender from The University of Manchester has been appointed a Dame Commander of the Order of the British Empire in the Queen's Birthday Honours for services to midwifery.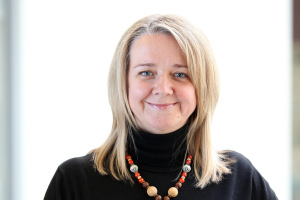 Dame Tina received the prestigious award for her demonstration of outstanding commitment, determination and leadership to raise the profile of midwifery, women's health and women's lives through education and research, both in the UK and in Africa.
The primary focus of her efforts has centred on the prevention of prolonged labour, which still remains a major cause of mortality, and her work has continued to push the boundaries to improve the standard of care given to both mothers and their babies.
Speaking of her award, Dame Tina said: "I am thrilled and deeply honoured to receive this award, particularly as I see it as a real privilege to be a midwife and to be in a position to contribute to improving care for women and their families."
A notable example of the work led by Dame Tina was the development of a cross-national masters degree programme in midwifery and women's health for institutions in the UK and Africa, which was designed to develop the ability of midwifery educators and improve practice.
Dame Tina's passion and dedication to the reduction of maternal mortality, particularly in developing countries, has resulted in her travelling and sharing her experiences through the Africa Midwives Research Network and East Central and South African College of Nursing. She has also taken on a number of other roles and is a Visiting Professor at the University of Nairobi, where she is implementing innovative teaching programmes to improve education standards. Dame Tina is also an examiner at the University of Malawi, as well as a regular advisor to the World Health Organization, and has contributed to a number of international clinical guidelines in maternity care.
Her ground-breaking research has resulted in many changes in midwifery practice and policy and, as a result of her work exploring maternal mortality, morbidity and public health, improvements in care and maternity services have been made for countless numbers of women.
Dame Tina's work in African countries, both professional and voluntary, and her active support for the White Ribbon Alliance, has meant that midwives and women in the UK and worldwide have benefited from her work. For instance, she established the African Journal of Midwifery and Women's Health, which is issued free to African midwives providing them with an invaluable source of contemporary midwifery research and information.
Ends