Naming the dragon
15 Jun 2012
Four year old Max Rose names the newest addition to The John Rylands Library dragon family.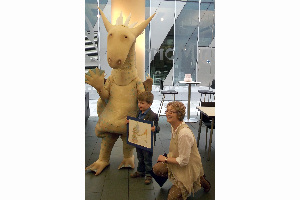 Max was judged the winner of a name-the-dragon competition run by the Library with his suggestion of Grumbold.
When asked why he thought the name would be fitting, Max replied that Grumbold was a good name because 'a Library dragon needs a clever name'.
Artist Melanie Allen attended the event last week and presented Max with the prize of an original drawing of Grumbold which showed him lighting an Olympic torch, to celebrate being given his name and also to commemorate the year.
Over 200 entries were received for the naming competition and the winner was selected by a panel of children and adults.