University Place abseil for Health and Safety Engagement Week
14 Jun 2012
Two senior members of staff were amongst a number of brave souls who took part in an abseil down University Place as part of five days of activities for Health and Safety Engagement Week. The event was also raising money for the British Heart Foundation.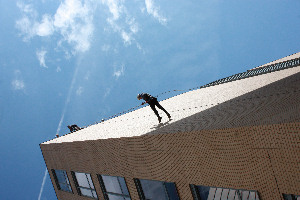 David Barker, Head of Compliance and Risk at the University, was feeling confident about the descent down the 100ft wall of University Place as he has experience of abseiling as well as cave diving and explained: "I quite like to do unusual activities like this."
Russell Ashworth, Head of Faculty Administration for Humanities, had never abseiled before the event and was "slightly apprehensive," however having successfully reached the ground said that it was great fun and would definitely do it again.
This is the first Health and Safety Engagement Week and has so far been a great success in promoting the wellbeing of staff and students through a number of fun activities including the abseil, as well as live demonstrations by Greater Manchester Fire and Rescue Service, visits to Jodrell Bank and the High Voltage Laboratory to name but a few.
David summed up today's event by stating that "abseiling is an apparently hazardous activity but with the support of appropriately trained individuals you can get middle aged men to jump off tall buildings for a good cause."
What's Russell's secret to a successful abseil? "Don't look down!"
To make a donation go to http://www.justgiving.com/University-of-Manchester-Abseil-June-14th-2012