Following the Olympic flame
18 Jun 2012
The Olympic flame travels through Fleetwood on Friday 22 June in the hands of University of Manchester student Leila Hamrang and will pass along Sackville Street on Saturday 23 June.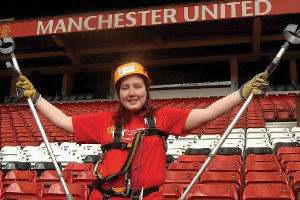 Leila, who is doing a BA in Learning Disabilities Studies, has been raising money for cancer charities and organisations since recovering from her second bout of leukaemia. The blood cancer was first diagnosed when she was 13 and the treatment included a bone marrow transplant donated by her younger brother; however she has been left with many side effects from her treatment.
Nonetheless her fundraising efforts have included abseiling down Quay House in Spinningfield and volunteering. She will also take part in the Race for Life on 4 July to support the Manchester Children's Hospital, CLIC Sargent, The Christie Hospital and Cancer Research.
She said: "It is a huge privilege for me to be a part of the 2012 Olympics because I know that I can spread hope for all those who are still fighting cancer, to all those loved ones that have lost their battle and are no longer amongst us, and those who have survived."
On Saturday 23 June, the torch will travel through the University campus when it is carried along Sackville Street on its journey across Manchester city centre.
Follow the torch's progress in video, photos and text online at:
And there's one more University connection to the Olympic torch: mathematics student, Andrew Harper, carried it through Horwich on Friday 1 June.
20-year-old Andrew, who was born with cerebral palsy, is a member of the development squad for GB for the Paralympics in table tennis.