Obituary: Baroness McFarlane of Llandaff
29 May 2012
1 April 1926 - 13 May 2012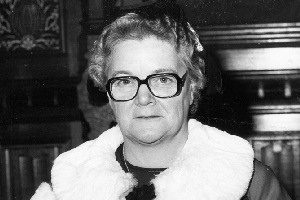 Jean Kennedy McFarlane, Baroness McFarlane of Llandaff, who has died aged 86, was one of nursing's great pioneers. Her work on what has come to be called the nursing process is now an integral part of every nursing curriculum and every nurse's practice.
Jean joined the Victoria University of Manchester in 1971 and became England's first professor of nursing in 1974. Here, she developed a degree course and established the country's first professorial nursing department.
She was also responsible for England's first nursing research programme, and was mentor to many of those who became the nurse leaders of the next generation. She remained at Manchester until her retirement in 1989.
In 2009, the University honoured her when it opened the Jean McFarlane Building - the new home of the School of Nursing, Midwifery and Social Work, the School of Community Based Medicine and the Institute of Health Sciences.
Obituaries: