Olympics training camps at University sports facilities
18 Jun 2012
Manchester Aquatics Centre and Sugden Sports Centre have been selected by teams to host their pre-games training camps.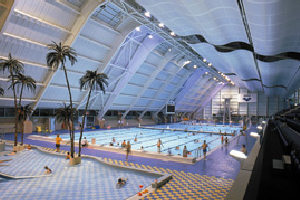 The Australian Olympic Swimming team will use the Manchester Aquatics Centre as its official training camp from 14 July to 5 August in the run-up to the London 2012 Olympic Games. The team will utilise both 50-metre pools and members of the public will be able to view the squad for short periods from the balcony.
Manchester Aquatics Centre will also host the Paralympic GB swimming team camp for London 2012 from 20 to 25 August, while the rest of the British Paralympic team will be based at the University of Bath. ParalympicsGB have cleared the move to allow the swimmers to continue their long-standing relationship with Manchester.
The Brazilian Paralympic squad will use The Sugden Sports Centre from 15 to 21 August to prepare for wheelchair fencing, sitting volleyball and boccia.