University Challenge team off to the Far East
24 May 2012
The University of Manchester's successful University Challenge team has been invited to take part in an international televised tournament in Japan.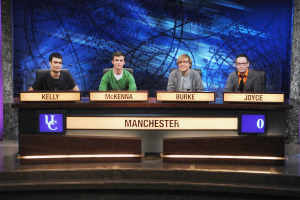 The TV quiz champions are heading off to Tokyo this summer to take part in the 'Brain World Cup', a unique international contest between sixteen of the world's top universities.

The pilot show aired in Japan last January and it attracted a massive audience of six million viewers, and now the Manchester team have been invited to take part in this summer's sequel.

The team, including Tristan Burke, Michael McKenna, Paul Joyce and Luke Kelly will be filming in Japan in July, with all their expenses paid by the production team from Fuji TV.

Manchester's team captain Tristan Burke said: "We're all very excited to be visiting Japan. It will be great fun to test our wits against teams from around the world, and especially on a trip to the other side of the world!"

The show's producers are also coming to Manchester next month to film the team here on the University campus.