Rylands turns TARDIS for one night only
24 May 2012
The John Rylands Library at The University of Manchester turned itself over to a group of budding Time Lords who bedded down for the night in its world famous Historic Reading Room.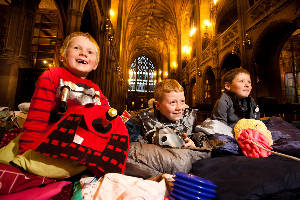 The sell-out Dr Who themed sleepover featured a night of mysterious stories and screenings – and an appearance of BAFTA winning Dr Who director Euros Lyn.
Euros, who studied drama at The University of Manchester in the late 1980s, introduced an episode he directed called Silence in the Library.
There were dozens of activities including a Dr Who themed fancy dress competition, a torch-lit tour of the Library, a picnic and a chance solve the mystery of the missing TARDIS.
Public Programmes Manager for The John Rylands Library, Jacqui Fortnum said: "As a life long Dr Who fan, I am delighted  to have the opportunity to show Silence in the Library and host its talented Director Euros Lyn.
"Parts of our gothic library are spooky even during the day – so we think our first ever sleepover should be quite an experience."