Netball star to represent GB
23 May 2012
University of Manchester student Beth Cobden, has been selected to represent Great Britain in the first ever FISU World University Netball Championships in South Africa.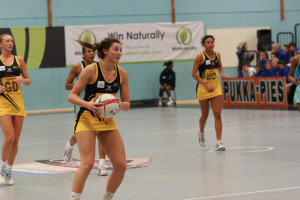 This will be the first national University team to be formed since 1995 when the UK Select Team played New Zealand.
Beth, a Sport Manchester scholarship athlete from Lichfield in Staffs, was picked from a group of talented student netballers who travelled to Sheffield earlier this month to take part in national trials.
Beth said: "I was invited to the trials on the back of my performance at the U21 European Championships earlier this year. We had a full day of training and match play before the selection was announced. There were some extremely talented netballers there so I am very proud to have been chosen."
The GB squad will travel to South Africa on 27 June to take part in the five-day tournament, which starts on 2 July.  Beth will then stay on for a further week and join the rest of the England U21 girls' team for a test series against South Africa.
Beth said: "I am very excited about going to South Africa. It will be a very intense period of training and matches so I will need to be in good shape but I am really looking forward to it."
Beth, a 1st year Finance and Accounting student, is currently revising for her end of year exams as well as attending weekend training camps in preparation for the tour. She also plays for the University's first team and the Northern Thunder regional squad, recently crowned 2012 FIAT Super League Netball Champions.     
Beth said: "It is going to be a very busy couple of months but now that my lectures have finished I can really focus on revision. Fortunately there are a few weeks between my last exam and the start of the tour where I will be able to focus on my training."