Take part in Greater Manchester Cycle Challenge
22 May 2012
Sign up before 5 June for the chance to win a new bike and other great prizes.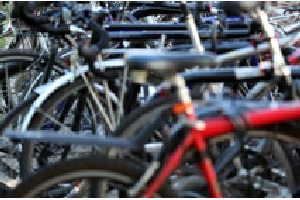 The Greater Manchester Cycle Challenge is under way and we'd like to invite you all to take part. If you haven't cycled for years, don't worry, journey times from as little as 10 minutes qualify and you can ride anywhere, anytime – on an evening or at the weekend.
The Cycle Challenge is a fun, free competition to see which workplace can get the most staff cycling. There are a host of prizes that are being given away over the next two weeks for those who have a go.
Sign up to your department and challenge each other!
The University has signed up as a large employer but we also have individual teams under the University's 'umbrella'. Departments can then compete against similar sized teams, both internally and externally.
You can sign up to your team or start a new one easily here:
Currently we have over 100 participants but we can do far better given our excellent cycling culture. Some of our teams are faring well - can your bolster their chances or create a new team to beat them?
Current overall standings:
200-499 staff category - School of Computer Science 3rd place
50-199 staff category - Team Beyer Building 3rd and School of Languages, Linguistics and Cultures 6th
20–49 staff category - Sport 3rd and Arthur Lewis Building 5th
The competition runs from 14 May to 5 June (don't worry, you can log previous journeys!). You just need to ride a bike for 10 minutes and record it online to be entered into the draw for some great prizes - cases of wine, Trafford Centre vouchers, bikes and more!
Plus, if you ride a bike for the first time in a year or encourage someone else to, you can win an Odeon Cinema ticket. They're giving away 500 tickets!
Let's give it a go and get The University of Manchester moving up the leader board!