Celebration day for Queen's Anniversary Prize
10 May 2012
The University of Manchester last week celebrated the award of a Queen's Anniversary Prize for Further and Higher Education for the Dalton Nuclear Institute.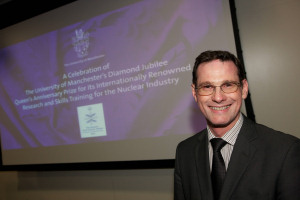 Industry leaders, local dignitaries, staff and students of the University came together at the event to learn more about the Institute's world-leading research and facilities.

The prize, awarded at a reception at Buckingham Palace on February 24 earlier this year, recognises and celebrates the outstanding work within UK Higher and Further Education Institutions and the impact that they have on society.

Following an opening address from Dame Nancy Rothwell, President and Vice-Chancellor of the University, Professor Colin Bailey and Professor Andrew Sherry spoke to guests about the challenges and issues surrounding energy supply for future generations and developments in the nuclear sector.

Professor Bailey, Vice-President and Dean of the Faculty of Engineering and Physical Sciences, talked about how successful the University has been in attracting research funding in the crucial area of energy, and how academics are working on some of the most important research areas in science.

Professor Sherry, Director of the Dalton Nuclear Institute then gave a lecture about the importance of the nuclear industry and how the Institute is leading the way in nuclear research – from plant life extension and new build manufacturing through to responsible waste disposal.

The Queen's Anniversary Prizes are the UK's most prestigious form of national recognition open to a UK academic or vocational institution. The winning entries range from individual departments or research groups to major international development projects and community schemes delivering cutting-edge research.

The University of Manchester's Dalton Nuclear Institute provides world-leading applied research to support government, regulators and industry in the delivery of safe and secure nuclear energy, both in the UK and globally.
 
The University's leading academics, under the direction of the Dalton Nuclear Institute, also provide a wide range of education programmes across all civil nuclear fields to both full-time and part-time students to ensure that the UK has the required skilled workforce to address the future challenges facing the sector.

Professor Sherry, who along with Professor Rothwell and Chancellor Tom Bloxham received the prize from the Queen at Buckingham Palace in February, said he was delighted to be able to commemorate the award  at the University.
He added: "It was tremendous to celebrate the Queen's Anniversary Prize with so many academic friends and colleagues from industry who have all contributed to the development of nuclear research and higher learning at the University."