Casken string quintet gets UK premiere
10 May 2012
The University of Manchester's resident string quartet are to premiere a major work of one of the UK's leading composers at the Martin Harris Centre tomorrow(11 May).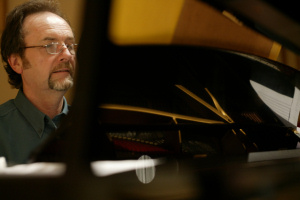 John Casken, who is a Professor Emeritus at the University, will hear his composition 'Inevitable Rifts' for string quintet performed for the first time in the UK by Quatuor Danel - joined by renowned cellist Petr Prause.

Like Schubert's famous Quintet in C, D 956, also in the concert, Inevitable Rifts adds an extra cello to the string quartet, making for a richer sound.

The programme is completed by Haydn's Quartet Op. 50 No. 4, in the key of F sharp minor.

Casken explores the tensions and differences created by forming an alliance between the viola and two cellos quite separate from the two violins

The rift is heard at the start with the lower instruments playing dark, pulsating chords, and the violins moving together in a slow broken melodic passage.

Casken was Professor of Music at the University of Manchester from 1992 to 2008, but maintains links with The University as Emeritus Professor of Music.

His music  has featured at major festivals in Europe, the USA and Tokyo.

His opera 'Golem' was awarded the First Britten Prize for Composition in 1990 and the Virgin Classics recording with the original cast won a 1991 Gramophone Award.

The orchestral song-cycle Still Mine won the 1993 Prince Pierre de Monaco Prize for Musical Composition and 'The Dream of The Rood' for four voices and instrumental ensemble received the BASCA Award for choral music in 2009.