Two Cities Boat Race
16 May 2012
The much anticipated Two Cities Boat Race will take place on Saturday 19 May from 12.30pm at Salford Quays.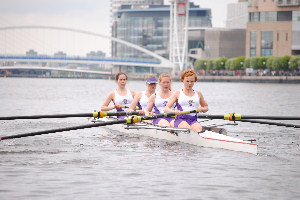 The annual varsity event sees boat clubs from The University of Manchester and University of Salford go head to head in a series of races starting from the Salford Water Sports Centre and finishing at the Lowry bridge.
This year the boat race will form part of a bigger celebration to welcome the start of the London 2012 Games Time in the North West. 'Looping the Loop' is an Olympic inspired cultural journey featuring art, sport, theatrical performances, interactive experiences and community events around the impressive backdrop of MediaCityUK, Lowry and Imperial War Museum, The Quays and Old Trafford football ground.
For more information, go to: