Scientist awarded Royal Society fellowship
03 May 2012
A University of Manchester stem cell researcher has been awarded a prestigious Enterprise Fellowship Grant from The Royal Society of Edinburgh and the Biotechnology and Biological Sciences Research Council (BBSRC).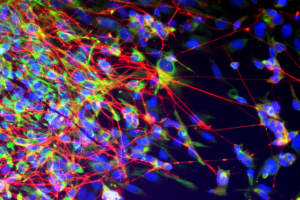 The one year grant will enable Dr Lisa Mohamet in the School of Dentistry to develop a business plan to support the commercialisation of her research, and establish a spin-out company over the next 12 months with the help of UMIP, the University's agent for intellectual property commercialisation. The grant will also provide business training through an industrial mentor, Go Business. Dr Mohamet will travel to the Royal Society's base in Edinburgh once a month to train with her cohort, learning about business skills including tax planning, marketing, the role of the CEO and sales.
The Royal Society of Edinburgh is a Fellowship of the world's most eminent scientists and is the oldest scientific academy in continuous existence. Dr Mohamet's research on human pluripotent stem cells (hPSCs) identifies a novel, scalable process that directs differentiation of hPSCs to almost pure populations of neural cells. The use of such cells by large pharmaceutical companies offers the long-term potential to improve predictions of early toxicity screening and may reduce costs and inefficiencies associated with late-stage failure of clinical trials.
Dr Mohamet said: "To have the recognition and support of the Royal Society of Edinburgh and BBSRC is a great boost to my research into hPSCs. The Enterprise Fellowship will provide me with the means and support to commercialise this research and other pipeline technologies.
"This will provide a cost-effective method for the production of stem cell derived-neurons and heart muscle cells or 'cardiomyocytes', for example, for use in high-throughput drug screening and cellular therapy applications."
Professor Grahame Bulfield, Convener of the BBSRC / Royal Society of Edinburgh Selection Panel added: "The competition to receive an Enterprise Fellowship award is fierce and only the very best reach the high standards set for the programme, so it is of considerable credit to Dr Mohamet that her application was successful.
"Stem cell research is clearly a fast moving and exciting area of science and Dr Mohamet has a strong academic background in her research area. But what convinced the panel to make the award is that we see clear potential for the commercialisation of the technology and the ability of Dr Mohamet to take it forward. This award of £60,000 over one year should give her every opportunity to advance the commercialisation of her research and also be given training and mentorship in entrepreneurial and business skills. We wish her well."