"You need each other", writers tell artists and scientists
24 Apr 2012
Six of the UK's top science fiction writers are calling for scientists and the creative community to work more closely together to improve the credibility of their work.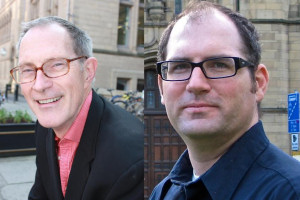 The University of Manchester's Geoff Ryman and Dr David Kirby are coordinating efforts to balance scientific practice and knowledge with the demands of story telling.

A letter by writers Ryman, Justina Robson, Simon Ings, Alastair Reynolds Paul McAuley  and Ken MacLeod appears today in the influential online arts journal The  Manchester Review, published by University's Centre for New Writing.

It is published alongside an essay by Ryman on the topic.

The move comes as leading figures in the world of science and the arts gather at The University of Manchester this week to discuss how best to guarantee the scientific credibility of fiction, film, television and the arts.

Ryman is himself a leading science fiction writer and creative writing lecturer and Kirby is a senior lecturer in science communication studies at the University's Centre for the History of Science, Technology and Medicine(CHSTM).

The academics believe Britain risks falling behind the United States where organisations such as The Science and Entertainment Exchange have been successfully operating since 2009.

The Exchange was developed by National Academy of Sciences in the US to increase public awareness, knowledge, and understanding of science through its representation in television, film, and other media.

Ryman, who is based at the Centre for New Writing, paired off literary colleagues with scientists - mostly from Manchester - to produce a book of short stories called When it Changed in 2010.

He said: "Getting the correct balance is hard, but worthwhile, because credibility is important to audiences and scientists.

"This was part of the rationale behind the 2010 anthology When it Changed: it was about locating what is fresh and new in the sciences and giving writers a chance to work with researchers to come up with different, contemporary themes.

"The book worked well enough for its publisher Comma Press to follow up with further collections of collaborations.

"It's my experience that scientists can find it difficult to understand the needs of scriptwriters or storytellers.

"There is a way of working that ensures that scientific authenticity can be maintained… a gripping story gets told.

"There is a kind of process that can be followed.  But both sides need to be aware of it."

Kirby is author of the acclaimed 2011 Lab Coats in Hollywood, which provides a behind-the-scenes look at how scientists assist filmmakers in producing motion pictures.

He said: "My research demonstrates how collaborations between scientists and creative professionals can be successful, but the key is to help these communities understand how best to work together.

"Our workshop will be attended by major figures in the creative and scientific communities and is a first step to creating a body in the UK which brings together both sides.

"This important task must succeed if we are to sustain British fiction, film, television and the other arts enjoyed by millions of people around the world."

Putting the Science in Fiction is co-funded by CHSTM and CIDRA (Centre for Interdisciplinary Research in the Arts at The University of Manchester).

It brings together screenwriters, producers, scientists, academics, media professionals to discuss a range of issues  from story collaboration, to media presentation of science.

The Manchester Review appears each spring and autumn offering a mix of new music, public debate, visual art and video as well as fiction and poetry.