Student card swap about to get under way
18 Apr 2012
From Monday (23 April), students who will still be studying at the University from September 2012 onwards are being asked to swap their student cards for new ones.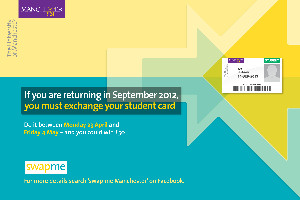 They will need the new proximity cards (similar to Oyster cards) in the future to access University buildings, including the new Alan Gilbert Learning Commons, which will open later this year.
A communications campaign using the tagline 'swap me' aims to maximise the number of students swapping their cards during the two-week exchange period and to inform them of the benefits and requirements attached to the new card.
Six prizes of a £50 iTunes or Amazon voucher are up for grabs for those who swap their card during the 'swap me' period.
Staff in Schools and the PSS are being asked to play an important role in the campaign by encouraging students to swap their cards wherever possible.
A toolkit of FAQs, key messages and supporting visual materials is now available at:
Students and staff can also 'Like' a special 'swap me Manchester' Facebook page for the latest information and updates at:
A6 flyers and A2 posters are also available to order directly from:
Between Monday 23 April and Friday 4 May, students will be able to swap their cards in the following locations;
Main Library, University Place, Student Services Centre and Joule Library – 9am to 5pm weekdays
Owens Park – 4pm-7pm weekdays (except Tuesday 1 May)
Some special arrangements are being made by the Student Services Centre for student cohorts who are currently based away from the University.
Students who are not on campus for the two-week period can still swap their card in the SSC at a later date.
For any enquiries about the student card swap process and arrangements, please contact: