The Manchester Museum's Living Worlds gallery shortlisted for two awards
18 Apr 2012
The gallery, which opened in 2011, has been shortlisted for the Design Week Awards 2012 in the Exhibition Design category and for the Museums + Heritage Permanent Exhibition award 2012.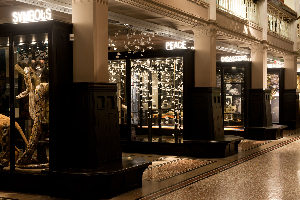 The Living Worlds gallery, and accompanying smartphone app, explores the connections between all living things, including us, and shows how we can all shape the future by the choices we make.
The gallery reveals a lot of the building's original architecture and includes a huge variety of stuffed animals (including favourites such as the Sperm Whale skeleton, Polar Bear and Tiger), all beautifully displayed with the help of European art and fashion show producer, villa eugénie.
More information: