PhD panellists wanted for Pathways
01 May 2012
PhD-qualified colleagues are invited to take part in Pathways, the University's annual careers event aimed at PhD researchers and research staff, on 8 June 2012.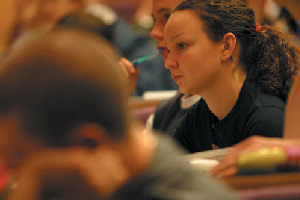 You can support Pathways by taking part as a panellist in an interactive session. You would speak briefly about your own career journey before answering questions from our delegates.
The sessions are grouped according to discipline or experience; for example, last year's sessions included: 'The differences between academia and industry;' 'Working overseas;' 'Opportunities for Humanities/Science/Engineering PhDs,' and 'Non-academic roles in Universities.'
Pathways offers participants a great networking environment as well. We anticipate around 350 delegates together with 80+ panellists attending.
If you are interested in further details, please contact:
Further information online at: