Korean nuclear scientists visit Dalton Nuclear Institute
05 Apr 2012
Representatives of the Korea Atomic Energy Research Institute (KAERI) visited the Dalton Nuclear Institute and nuclear research sites in Cumbria last week (26-30 March).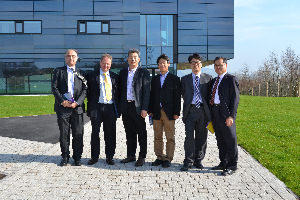 The five visitors from KAERI were Dr Jeikwon Moon (Director of Decontamination & Decommissioning Research), Dr Wangkyu Choi, Dr Byung-Seon Choi, Dr Bumkyoung Seo and Dr Minhoon Baik. The visit was hosted by the Research Centre for Radwaste & Decommissioning.
After being welcomed to the University on Monday morning by Professor Colin Bailey, Vice-President and Dean of the Faculty of Engineering and Physical Sciences, they took part in extensive technical discussions on decommissioning. Later, they toured the Nuclear Manufacturing Technology Research Laboratory and the Materials Performance Centre, and were given a robotics demonstration in the School of Electrical and Electronic Engineering.
On Tuesday, the visitors met with Professor Andrew Sherry, Director of the Dalton Nuclear Institute, followed by bi-lateral technical talks covering research on areas such as radioactive waste disposal, microbiology of the nuclear fuel cycle and materials research in geodisposal. They rounded off the Manchester section of their visit with an evening tour of the Manchester United ground.
After heading up to Cumbria on Wednesday afternoon, the KAERI team spent Thursday and Friday visiting the Dalton Cumbrian Facility and National Nuclear Laboratory Central Lab at Sellafield, where they were the guests of Huw Morgan, NNL's Director of Strategic Development. They also met local politicians and visited decommissioning facilities.
Developments in the so-called 'back-end' of civil nuclear power by both sides will continue to be shared in annual knowledge exchange visits, leading to future joint projects and use of facilities to facilitate the most effective work outcomes.
Dr Jeikwon Moon, who led the trip, said: "I appreciate your hospitality during my stay in UK. The information exchange meeting was very beneficial and would be very useful for our work in Korea. We are looking forward to the next meeting."
Professor Richard Pattrick, who made a trip as an expert academic to KAERI the previous year, said: "Dalton Nuclear Institute is delighted to have hosted this return visit. There are parallels between the radioactive waste management and geodisposal challenges in the UK and Korea which make this collaboration of benefit to both countries and we look forward to future exchanges."