News from SPORT Manchester
29 Feb 2012
Wellbeing Week 2012 – Book your FREE class now! * Date for the diary - Manchester Bike Bash 2012! * Get set for the weekend with Friday Zumba! * Manchester Ambassadors needed for London 2012 Games! *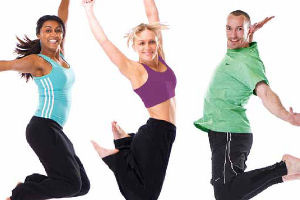 Wellbeing Week 2012 (12-17 March):  book your FREE class now!
Bookings for all Wellbeing Week activities are now being taken online at:
Once again, the timetable is jam-packed full of fitness, holistic and educational activities aimed at making you more Active, Calm and Healthy. Classes are booking up fast and some have already sold out so get your skates on and don't miss out!
Wellbeing Week is delivered through a partnership between various departments within the University and funded by Human Resources. Departments include SPORT, Counselling Service, Occupational Health, Equality & Diversity, UMSA, FoodonCampus and others.
Downloads:
Date for the diary - Manchester Bike Bash 2012!
Get on your bike and head down to University Place on Thursday 15 March for a cycling extravaganza! Come and test your balance and skill on the pump track, a continuous looped wooden track where pedalling is forbidden! Bikes, safety equipment and tuition will be provided so what are you waiting for? Come and have a go!
Other activities will be available on the day including virtual WATT Bike Racing, bike maintenance from Bicycle Boutique, bike marking from Security Services, campus bike hire scheme Biko Bikes and much, much more!
Get set for the weekend with Friday Zumba!
Exercising has never been this fun! Zumba is a fun and fast, calorie burning work out which is taking the world by storm! Why not get your weekend off to a flying start and drop in to this lunch time Zumba. 
The class takes place in the Wellbeing Room in H11, Sackville Street Building every Friday from 12-1pm.  
No need to book just turn up but numbers are limited so places will be allocated on first come first served basis. The class is open to staff, students and members of the public for just £3.50 a session.
Manchester Ambassadors needed for London 2012 Games!
Representatives from Manchester are needed to help welcome visitors from all over the UK and the world to Manchester, Trafford and Salford during the 2012 Olympic Games and Paralympic Games. You must be available to volunteer at least four of the event days between July and August 2012.
Register your interest at:
Successful applicants will be invited to interview in April.
Duties include welcoming visitors, event marshalling at the football fixtures and stewarding the Olympic Torch Relay plus many more. You will be given full training.