The Cultural Olympiad comes to Manchester
29 Feb 2012
We Face Forward: Art from West Africa Today opens on 2 June at The Whitworth Art Gallery, Manchester Art Gallery and Platt Hall.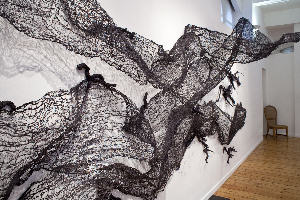 As the whole world celebrates the London 2012 Festival, don't miss your chance to join in the party here in Manchester in a heady mix of international art, music and culture. For the first time, Manchester's two main art galleries are coming together to present We Face Forward: Art from West Africa Today.
This major exhibition of the latest contemporary art will take place in three locations across Manchester: Whitworth Art Gallery and Park, Manchester Art Gallery, and Platt Hall (Gallery of Costume).
Music, performance and fashion will feature prominently on the accompanying programme of events. We're working with Band on the Wall to bring some of the biggest names in West African music here to celebrate in the city with performances planned in parks and public spaces.

The exhibition itself will include painting, drawing, photography, textiles, sculpture, video and sound work – from a wide range of artists whose work is internationally acclaimed, but rarely seen in the UK. Confirmed artists include: Hélène Amazou, Mohamed Camara, Aboubakar Fofana, Meschac Gaba, Romuald Hazoumè, Abdoulaye Konaté, Nii Obodai, Nnenna Okore, Emeka Ogboh, Abraham Oghobase, Amadou Sanogo, Malick Sidibé, Pascale Marthine Tayou and Barthélémy Toguo, with a number of others shortly to be confirmed.

We Face Forward opens on 2 June and runs throughout the summer until 16 September 2012. We hope that you'll be among the 170,000 people that we are expecting to take advantage of this once-in-a-lifetime cultural extravaganza and grasp your opportunity to take part in the London 2012 Festival.
To find out more, visit the website at: