Renowned poet makes his mark on The University of Manchester
28 Feb 2012
A new mural poem by renowned writer Lemn Sissay – celebrating the virtues of peace and quiet – has been unveiled at The University of Manchester.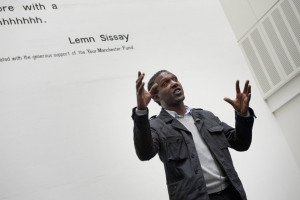 'Let There Be Peace' (Manchester 2012) is part of the award-winning Manchester poet's Poems As Landmarks project.
The first in the series was "Hardy's Well", inscribed on to the popular Manchester pub of the same name in the mid-1990s.
Other work to be found in the city include "Flags", laid over  a mile on The Northern Quarter's Tib Street, and "Rain" on Oxford Road, passed by Manchester students every day as they make their way into University.
The latest addition provides a tranquil and inspiring backdrop for the large atrium space in University Place on Oxford Road. It was painted over five days by Gerard Brown, a local sign writer from The Graphics Centre, onto what was previously a blank white wall.
The open-plan atrium space can be used by people from across the University, with many students passing through it on their way to visit the accommodation office and to access support services.
But the area also provides a haven for quiet personal study or small group work – amid the hubbub of an otherwise busy building, which houses large lecture theatres, the main refectory and dozens of teaching rooms.
Tall glass windows on corridors overlooking the atrium allow building users to enjoy the 15 metre high poem as they go about their daily business.
The commission and installation of the poem was funded by alumni of the University through the Your Manchester Fund, which supports projects across campus to enrich the student experience.
Lemn Sissay said: "Let There Be Peace stands with my Landmark Poems as testament to the creativity and pride of a world class city with a world class University. Manchester."
Prof Dame Nancy Rothwell, President and Vice Chancellor of The University of Manchester said:  "We hope this uplifting poem will provide inspiration as well as academic, creative and intellectual stimulation to the many students and staff who see it during their journeys around campus."
Chris Cox, Director of Development and Alumni Relations, said: "We're delighted our alumni have made possible such a beautiful piece of mural poetry. I hope students, staff and everyone visiting the campus will make a point to take the time to appreciate this important landmark and to join us in thanking our alumni of all disciplines and ages for their generosity." 
Lemn Sissay's Landmark poems include commissions by The City of London and The Royal Festival Hall.
He is the first poet to write for the 2012 Olympics and his poem "Spark Catchers" will soon be seen by millions, as part of Winning Words, an initiative for poetry in public spaces. His poem Gilt of Cain was unveiled by Bishop Desmond Tutu in London, and he has been awarded an MBE for Services to Literature. He is currently writing a poem which will be projected onto the coastal town of Margate.
Most of the Lemn Sissay's Landmark poems can be seen at  http://www.lemnsissaylandmarks.com