cities@manchester Urban Forums
24 Feb 2012
Series of panel discussions on the contemporary challenges facing cities.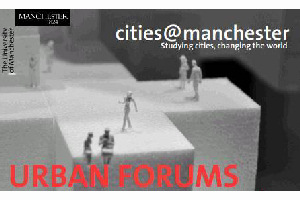 The cities@manchester Urban Forums are a series of panel discussions at the Anthony Burgess Foundation in central Manchester, on contemporary challenges facing cities. Each forum brings together speakers with different viewpoints and aims to stimulate debate on issues of public concern.
All are welcome, free registration via our website.
Schedule
Tuesday 13 March (6-7.30pm)
Using Market Forces to improve Education in Manchester: Possibilities and Challenges
  
Tuesday 12 June (6-7.30pm)
Towards a Sustainable Manchester?
  
Tuesday 10 July (6-7.30pm)
Ten Years After! What is the Legacy of the 2002 Commonwealth Games for Manchester?
Full details can be found at:
Further information
cities@manchester is an initiative which brings together urban and cities researchers at The University of Manchester. It is directed by Professor Kevin Ward and connects over 150 researchers and graduate students across the Faculty of Humanities and beyond.