Modernist makeover was Mancunians' way
23 Feb 2012
Manchester was a stone's throw away from a brave new world of helipads, boulevards, tunnels and moving pavements, according to unrealised plans unearthed by researchers at The University of Manchester and Manchester School of Architecture.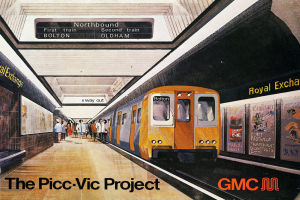 A remarkable collection of architects' drawings, maps and other exhibits - many of which have never before been seen by the public - will go on show at a special exhibition.

Curated by Dr Martin Dodge and Richard Brook, it is It called Infra_MANC and will take place from 27 February to 23 March (open Monday to Friday from 10am to 5.300pm) at CUBE and the RIBA Hub, 113-115 Portland Street, Manchester, M1 6DW.

The urban motorway, known as the Mancunian Way and completed in 1967, was originally part of 1945 plans for four ring roads and an array of radial 'boulevards'.

The plans would have wiped out large parts of the Victorian city and transformed it into an unrecognisable landscape of highways in the sky.

Plans for a helipad on top of Victoria train station, intended as a hub for inter-city helicopter flights, were published in 1956.

Though the Victoria station idea was quickly dropped, other helipad sites, including Castlefield, Piccadilly Gardens and next to Strangeways Prison, were considered.

A landing site behind Piccadilly station, was championed and investigated for ten years as part of Manchester's desire to be plugged into what was predicted would become a UK wide helicopter passenger network.

A railway tunnel connecting Piccadilly to Victoria stations, though eventually dropped, was given parliamentary approval in 1972 - with the new stations to be built underground, including one below Albert Square and the Town Hall, along with moving pavements connecting Oxford Road station and Piccadilly Gardens.

Six miles of secret tunnels under Manchester's China Town were built to protect the city's vital telephone system against atomic bombs during the cold war.

The bunker has since been closed off to the public but remain a mysterious relic of the period.

Richard Brook, from the Manchester School of Architecture, said: "Our exhibition reveals that Manchester could have been a very different place from the city we know today.

"Many of the proposals show the planners of the time had great foresight, vision and optimism.

"Some of these ideas were actually quite beautiful, but sadly they weren't to be and by the time of the 1973 oil crisis - when cash and energy was suddenly in short supply - they were abandoned.

"There were further complications too: the City council found it hard to please the myriad of landowners to go ahead with the ring road plans, and a newly emboldened heritage movement also put on the brakes."

Dr Martin Dodge, from The University of Manchester said: "The exhibition is about giving the public more knowledge about their city.

"Two of the projects we display in Infra_MANC were completed, two were not but both epitomise the spirit of post war recovery in Manchester, the reality of 1960s construction and the economic and political upheaval of the 1970s.

"We would like to thank Manchester Institute for Research and Innovation in Art and Design at Manchester Metropolitan University, Museum of Transport Greater Manchester and Manchester Libraries, Information and Archives for their support."