News from SPORT Manchester
15 Feb 2012
Preview the Wellbeing Week 2012 programme * Watch out, wannabe wizards ... Quidditch is back! * Fitness Manchester introduces burlesque * Back to Netball training sessions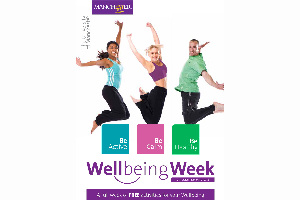 Preview the Wellbeing Week 2012 programme
Be one of the first to take a sneak peak at the programme for Wellbeing Week 2012. Once again the timetable is jam packed full of fitness, holistic and educational activities.
You can view the timetable online at SPORT Manchester: Wellbeing Week, but bookings will not be taken through the website until Monday 27 February.
The Wellbeing Week team will also be taking manual bookings at the 'Ask Me' desk in University Place on Monday 27 and Tuesday 28 February from 11.30am to 2pm.
Downloads:
Watch out, wannabe wizards... Quidditch is back!
Come and have a go at Muggle Quidditch (part of Manchester RAG Week) at the Armitage Sports Centre on Saturday 18 February 2012 at 11am.
Quidditch is a fast, fun and magical game filled with quaffles, bludgers and a Snitch! You don't need to know the rules to enter, just be up for some fun, fresh air and exercise, and the rest will be explained on the day.
You will need 7-14 people in your team and you can register as follows:
The cost is £2.00 per person and all profits will be donated to charity ... Don't forget your broomstick!
Fitness Manchester introduces burlesque
Try this short four-week taster course and learn the basic steps and techniques of the traditional dance style of burlesque. The course starts on Tuesday 28 February 2012 from 6pm to 7pm in the Wellbeing Room.
You can still book onto many of the Health and Fitness courses. Each week the price is updated to reflect the number of weeks remaining.
Book online at:
Back to Netball training sessions
It's time to dust off those trainers and get back on the court! The Back to Netball coaching sessions run every Tuesday (5-6pm) at The Sugden Sports Centre.
These are professionally coached sessions and cost £4.50 per week.
If you want to find out more:
Hope to see you there!