Get your skates on for the RAG Week Ice Rink
10 Feb 2012
13-17 February 2012 in University Place Square, Oxford Road.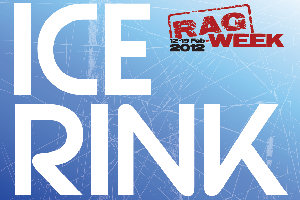 Manchester RAG is proud to announce the opening of the RAG Week Ice Rink!
Opening times
Monday 13 to Thurday 16 February (10am-6pm)
Friday 17 February (10am-4pm)
Entry costs (45 minute session)
£4 for students and staff of The University of Manchester
£6 for members of the public
All proceeds will go to the Manchester RAG Community Fund.
Further details online at:
The RAG Community Fund helps small, community-based charities in Manchester who receive limited external funding, but who aim to make a big impact on the lives of disadvantaged groups in the North West. Beneficiaries of the Community Fund will be selected in April. 
Manchester RAG is the official fundraising arm of the Students' Union, and this year aims to raise half a million pounds for local, national and international charities through a variety of exciting fundraising events and sponsored challenges, all organised by students.
For more details, please visit: