Get ready to Bogle
09 Feb 2012
Members of staff are invited to take part in the student-organised sponsored walk which is still strolling on after 51 years.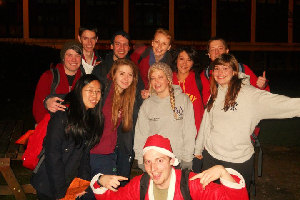 The Bogle Stroll goes from strength to strength as organisers Manchester RAG look forward to the next event in March and hope to raise £50,000 for charity.
Bogle has been a highlight of Manchester's calendar since 1951 and over the years has seen thousands of students and members of staff battle against their wills to overcome the challenge and raise millions of pounds for charity.
You can take part in a 55, 26 or 12 mile walk, or a 78 mile cycle around or across Greater Manchester. It's not for the faint-hearted, as only about 55% of participants complete the challenge, but you'll have a fantastic sense of achievement at the end.
This year's Bogle takes place on Friday 2 and Saturday 3 March. To sign up and begin raising money for the charity of your choice, please visit:
Bogle is part of Manchester RAG and Manchester RAG Week is happening this week (12-19 February)! Students across Manchester are raising thousands of pounds for charity and members of staff are equally welcome to join in the events, which include an all-week ice rink, Rocky Horror Picture Show screening, comedy night, pub quiz, food festival ... and many more!
For more details, check out: