Disabled student defies odds to graduate
21 Dec 2011
A disabled student who was told she would never walk or talk again has been awarded a 2:1 degree in criminology at The University of Manchester.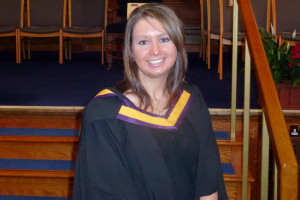 Lauren Thompson, from near Lytham in Lancashire, was forced to abandon a degree in criminology in 2006 after she was almost killed as a passenger in a serious car crash at the beginning of her third year.
Despite enduring brain injuries, a month in a coma, a year in a wheelchair and mobility problems with her arms and legs, the determined student restarted her studies in 2010.
Still experiencing serious disabilities, she walked a few steps unaided for the first time to pick up her degree to a cheering audience at the University's Whitworth Hall.
Lauren had been given specialist support by the School of Law which worked closely with the University's Disability Support Office, as well as members of her family.
She said: "I was very emotional when I received the degree-  as not very long ago I thought it was something which was beyond me.
"But I wouldn't have done it without the help of everyone at the School of Law, Sam Ward from the Disability Support Office and my family.
"It was amazing to be able to walk for my degree ceremony at one of the best Universities in the country."
So determined was Lauren to complete her degree that she studied law books as part of her rehabilitation programme.
But the injuries make it tiring for her to read more than 15 pages without a break.
She added: "It was hard work  - and because everything takes so much longer for me to do, I didn't really have that much time for a social life.
"But it was worth it: I really love the subject and one day I'd like to take a Masters degree in crime, law and society."
Senior Lecturer Dr Jon Spencer was Lauren's tutor. He said: "Lauren is an absolute inspiration to any disabled - or for that matter  non-disabled - person. She just doesn't know when to give up.
"Her degree is an amazing achievement and reflects her immense gifts."
The University provided Lauren with a note taker for lectures and seminars, a library assistant and some ergonomic computer equipment.
Her exams were taken in the Disability Support Office so she could have rest breaks.
University Disability Adviser Sam Ward said: " Lauren is one of many disabled students who have graduated this year.
"The real heroes in this story are colleagues in the School of Law and Lauren herself.
"She's a perfect example of how with the right support, even someone with severe disabilities can achieve great things.  Lauren is fantastic and an example to us all."
Lauren's story was covered on ITV Granada Regional News. You can watch the video report on the ITV website: