Christmas round-up
15 Dec 2011
University Christmas cards * Staff Christmas carol service * FoodOnCampus Christmas opening times * SPORT Manchester Christmas opening times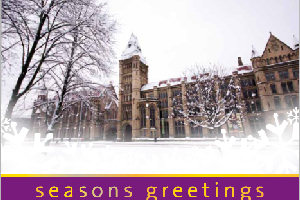 University Christmas cards
The University's printed Christmas cards are now available to order (see design on right).
To order or for more information, please contact:
Or you could send an e-card showing Snow Scene - Temple by a Lake, a woodblock print by Utagawa Hiroshige, from The Whitworth Art Gallery collection.
You can access the e-card at:
Just add your own message and get emailing!
Staff Christmas carol service
Join your colleages in Whitworth Hall on Tuesday 20 December, from 12.15 to 12.45pm, for the annual carol service for University staff.
As usual, there will be a retiring collection for the Francis House Children's Hospice.
FoodOnCampus Christmas opening times 
Opening hours will vary slightly over the Christmas period. You can download a PDF of the opening times from:
SPORT Manchester Christmas opening times
There will be some changes to the opening times of SPORT Manchester facilities over the Christmas period (between Friday 23 December and Tuesday 3 January). To avoid disappointment, please make sure that you check the link below before travelling to the Armitage Sports Centre, Sugden Sports Centre or the Manchester Aquatics Centre.