Humbug! Xmas Carolathon is treat for Dickens fans
13 Dec 2011
Students and staff from The University of Manchester are bringing Ebenezer Scrooge and Bob Cratchit to the masses by reading - and rereading - A Christmas Carol at different locations across the city over 10 hours tomorrow (14 December).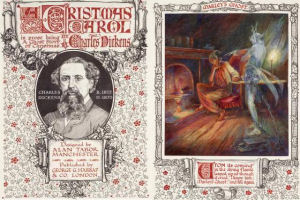 Organisers and Dickens fans Dr Jerome de Groot and Dr Mike Sanders from the Department of English and American Studies, hope it will be a moving experience for the readers, who are taking part to raise cash for the charity Shelter.

In the morning, the group will read the tale in full at the University, before reading selected highlights during a promenade performance along the Oxford Road. 

The whole story will be heard again when they arrive at the Friends' Meeting House between 2 and 5 pm before a grand finale at the Christmas Markets for yet another reading of selected highlights from 6-7.

The fund raiser follows last year's 10-hour reading of Milton's epic poem Paradise Lost , raising over £1,000 for the RNIB.

Dr Sanders said: "The idea for 'A Christmas Carol' came to Dickens during a visit to Manchester in 1843 so it's appropriate that the Ghosts of Christmas Past, Present and Future should once again be heard in the city.

"Despite being written nearly 170 years ago, Dickens' reminder of the need to make provision for the homeless, sadly, still resonates today."