New facility is moot point for legal beagles
09 Dec 2011
Three judges, two QCs, students and lecturers opened a new facility for students in the School of Law at The University of Manchester, when they took part in a mock legal case yesterday.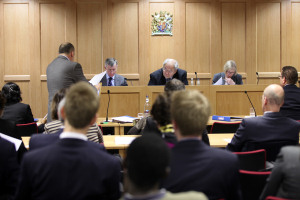 The state-of-the art mooting room - which almost exactly resembles a law court - will be used by law students to practice legal skills as part of their training.

Mock trials – or moots – involve two teams who try to persuade judges to support their case by demonstrating knowledge of case law, statutes and legal principles.

Michael Rawlinson QC and second year law student Aarti Sreenivas competed against Nicholas Braslavsky QC and fellow second year Dalton Hale at the new facility in front of judges Gilbart, Roddy and Stewart.

They performed in front of a packed audience of local judges, legal practitioners, students and university staff.

Manchester students take part in national, regional and internal mooting competitions every year.

In 2009 they won  the National Mooting Competition sponsored by the English Speaking Union and Essex court Chambers – one of the country's most important.

Law lecturer Dr Adam Tucker said: "Mooting is a vital part of a law student's education, as it gives them invaluable experience in terms of legal analysis and working with a team.

"We take mooting very seriously in the School of Law, working closely to support the Student  Mooting Society wherever we can.

"So we're delighted to be able to offer our students this fantastic facility."

Ramesh Pani, President of The University of Manchester Mooting Society said: " "The new mooting room has made a massive difference to the student experience, with people clamouring to get in there. Students that have used it already have spoken of how good and authentic it is, it really elevates the whole process when performing in such an environment.

"Whether students are interested in a career in the legal sector or not, mooting is of huge importance. It is highly regarded by all employers as a way to develop  transferable skills. It's also great for  research, public speaking and  thinking on your feet.

"The Mooting Society is looking forward to giving as many law students as possible the opportunity to use this excellent facility."