Stunning edition of Dickens' Christmas classic available on iBookstore
05 Dec 2011
An exquisite handwritten edition of Dickens' A Christmas Carol, kept at The John Rylands Library, is now available on the iBookstore.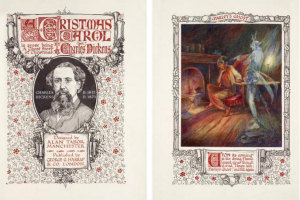 The iBookstore is included in the free iBooks app for iPad, iPhone, iPod touch and at www.itunes.co.uk.
The manuscript, written by little known Manchester artist Alan L Tabor, was digitised using state-of-the-art technology by specialist photographers at the world famous university library.
Tabor wrote the entire text by hand and decorated it with medieval style illustrations. His widow donated the manuscript to the John Rylands Library when he died in 1957.
In 1937 Tabor  produced a loyal address from the City of Manchester upon the accession of George VI and in 1943 designed the scroll conferring the freedom of the city upon Winston Churchill.
Published in facsimile by George G. Harrap in 1916, this title is the latest Rylands addition to the ground-breaking 'eBook Treasures' series, which enables iPad, iPhone and iPod touch users to explore rare works from UK collections in ultra high-definition.
Also being made available from the John Rylands Library is a first edition of Shakespeare's sonnets, published during the poet's lifetime in 1609. They are one of only 13 copies in existence.
The sonnets were bought by the Spencer family for £8 in 1798, then acquired by the John Rylands Library in 1901 as part of the Spencer Collection.
Developed with media company Armadillo Systems, each eBook is £4.99 to download and uses realistic page turning software linked to additional video and audio content.
A Christmas Carol was first published in December 1843, inspiring a genre of Victorian Christmas books.
The first edition of the classic was illustrated by John Leech, and the book has been a favourite with illustrators ever since.
Dr Mike Sanders, a Senior Lecturer in 19th Century writing at The University of Manchester said: "It's very appropriate that A Christmas Carol inspired a Manchester-based artist to create this stunning work, because it was during a visit to Manchester that Dickens first got the idea to write the story.
"It has been working its magic ever since it was first published, continuing to this very day.
"In 1843 that was immediately recognised by Dickens' fellow-novelist, Margaret Oliphant, who declared it to be 'unique as a work which actually made people behave better'.
"In 1867 when a Boston factory owner attending  a Christmas Eve reading of A Christmas Carol by Dickens himself was so moved by the tale he ordered the works to be closed on Christmas Day and gave a turkey to every employee.
"Thackeray described it as "a national benefit" and in the early part of the twentieth century, the Queen of Norway sent presents annually to disabled children in London inscribed "With Tiny Tim's Love".
Director of the John Rylands Library Jan Wilkinson said: "We are delighted that general readers as well as Dickens fans will  be able to see this  beautifully illustrated manuscript in high resolution. It will be the next best thing to owning the original.
"A key aim of the University is engage with the public by sharing our knowledge and expertise and this is a strong example of that.
"We know very little about the origins of this work and the artist Alan Tabor, so if any members of the public have any further information, the library would be grateful to receive it."
Michael Stocking, Managing Director of Armadillo Systems, said: "This is one of the most evocative books we have in eBook Treasures, and we're delighted to be working with the John Rylands Library on this project.
"I thought I was familiar with A Christmas Carol, but this version made me re-read the book from cover to cover."