President welcomes first Alan Gilbert Memorial Scholar to Manchester
02 Dec 2011
The University's President and Vice-Chancellor, Professor Dame Nancy Rothwell, has hosted a celebration evening for 12 new students studying at Manchester on the acclaimed Equity and Merit Scholarship Programme.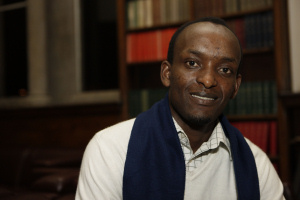 They included Engineering Project Management student Jeff Murenzi,the first Alan Gilbert Memorial Scholar, who played a major role during the preparation of a new international airport project and other infrasatructure proects in his home country of Rwanda.

The Alan Gilbert Memorial Scholarship was established to honour the memory of the University's inaugural President and Vice-Chancellor, Professor Alan Gilbert, who personally led the development of the Equity and Merit Scholarship programme. The Alan Gilbert Memorial Scholarship is awarded to the most outstanding student from Africa in each academic year.
The Equity and Merit Scholarship Programme offers talented students from developing countries the chance to study for life-changing Masters training programmes that are not available in their home nations. Significantly, the courses offered to these students are intended to address specific skills gaps or needs, and have included essential training in areas such as microbiology, law and development, electrical engineering, virology and educational leadership and school improvement.
Jeff said: "I can't find words to describe how studying here with the scholarship makes me feel.  This scholarship will help me to build my capacity in project management, in civil engineering and the knowledge I will get from here will contribute to the development of my country and all of Africa.
 "Alan Gilbert was a great man, a man who believed in change via education, a man who believed in development via education, the pioneer of the Equity and Merit Scholarship scheme. To be the first Scholarship holder is a great pleasure for me. 

"I have been given this honour, so I feel that I have something to return, something meaningful, something related to Alan's dreams: development via education."
Prior to taking up a place on the Equity and Merit Programme, Jeff worked in a new unit in the Rwandan Ministry of Finance and Economic Planning, established in 2010 to manage all public infrastructure projects. Upon completing his Masters training and returning to Rwanda, Jeff will be responsible for a substantial project to build a new international airport.
The University continues to welcome gifts large and small from those who wish to mark the life and achievements of Alan Gilbert towards the Alan Gilbert Memorial Fund, a permanent endowment which will see the continuation of an annual award to at least one African student per year.