University staff can really pack a punch
02 Dec 2011
Staff and students at The University of Manchester are being encouraged to take up boxing, to improve their well being and to help them deal with stress.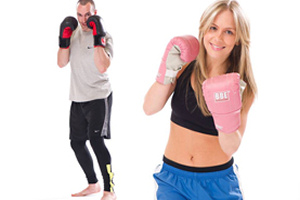 The University is holding an open session next week so members of staff, as well as students, can go along, get padded up and have a go.

The event is being hosted by the University of Manchester Boxing Club, with twelve sparring partners on hand to help newcomers to learn the ropes.

University Boxing Club Captain John Blissett said: "Boxing is a fantastic way to keep fit and to deal with stress or tension. This taster session will be open to men and women of all ages, staff and students alike, and we'd like to see as many people as possible coming along to see the benefits of the noble art.

"There are great physical benefits, of course, but the mental preparation needed to box is also second to none. This is a chance for us to explode a few myths."

The club holds regular fitness sessions, classes in basic technique, pad and bag work as well as competitive sparring. Any promising students who turn up could also get the chance to box for the University.

Alison Odell, Director of Sport at the University, said: "We positively promote an 'Active Campus' and this boxing session is an ideal way to introduce our staff and students to a sport they may never have considered.

"We have a dedicated team of enthusiasts at The University of Manchester, delivering a programme of sports opportunities and fitness activities for anyone from beginners to international athletes. Our aim is to support everyone who wants to take part in health and fitness activities whether they are training for London 2012 or playing recreational sport."
 
· The open boxing session takes place at Jabez Clegg on Portsmouth Street on Tuesday 6 December from 11am - 3pm and includes an exhibition of sparring as well as an opportunity for staff and students to try out on the practice pads.