Wheel into winter with December's Cycle to Work event!
30 Nov 2011
Join a guided ride to a free* breakfast on Wednesday 7 December 2011 (8.30–9am).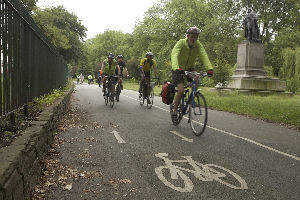 Please join one of our guided routes if you can and/or come along to Eats Refectory, University Place (building no. 37 on the campus map) for a free* breakfast.
Everyone is welcome and new cyclists are actively encouraged and supported. This is a great cycle community event for regular cyclists.
Encourage colleagues to join you: posters and bike strips are available to download from the website.
There will be a prize for the most Christmassy cyclist and/or bike.
For all the details, including 'regular' and 'on demand' routes and pick-up times, go to:
Cycling at the University
Full information at:
-----
* Collect a voucher at sign-in for a breakfast costing up to £3. Payment required above £3.