Government signals approval for the remedy to cross city bus travel
30 Nov 2011
A major project that will significantly improve cross city bus travel in Greater Manchester, and which includes the Oxford Road corridor, has won funding from the Government.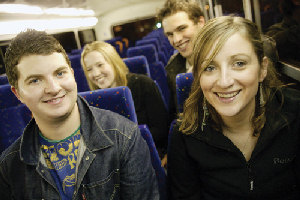 The Chancellor's Autumn Statement, made in the House of Commons on Tuesday 29 November, confirmed that the measures covered by the £54 million Cross City Bus scheme can now go ahead.
The project will provide a package of improvements along three major bus routes, one of these being East Didsbury to Manchester via Wilmslow Road and Oxford Road/Street.
A key aim of the scheme is to provide direct bus links across the city centre – so passengers will not have to change services or pay more than one fare – supported by infrastructure that will help to cut journey times and improve reliability.
In doing so, they will also provide better links between areas in the north, west and south of Greater Manchester and the education and health facilities on the Oxford Road corridor.
Diana Hampson, Director of Estates at the University has been closely involved in the project and said: "This scheme will make using public transport much easier along the Oxford Road corridor. There will be much less traffic, resulting in a cleaner and safer environment for our staff and students.
"While we're still waiting to hear the more detailed information about this scheme, we're confident that it will go a long way to supporting our Green Travel Plan which aims to help staff and students travel to work and study in a more environmentally sustainable way," added Diana.
The scheme has been developed by Transport for Greater Manchester (TfGM) in partnership with Manchester City Council, Salford City Council and Rochdale Metropolitan Borough Council.