New weekly newsletter for students
16 Nov 2011
A new weekly e-newsletter for students, called My Manchester News, has been introduced to support the student experience.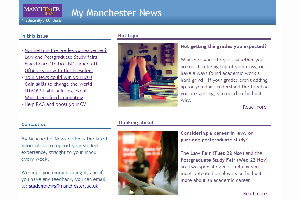 My Manchester News is sent out to all current students every Thursday during term time, highlighting relevant information, advice and guidance to support their time in Manchester.
The newsletter was developed in consultation with the Students' Union and students themselves, with further evaluation planned to improve the format and content.
Staff can view the content of the latest issue at: