News from SPORT Manchester
16 Nov 2011
Five-a-side at Armitage Centre * Staff running group beginners' sessions * Zumba class at Sackville Street Building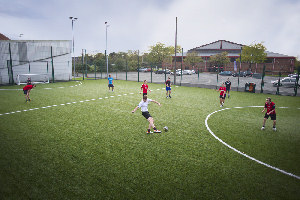 5-a-side Fridays at the Armitage Centre!
Play 5-a-side on a Friday at the Armitage Centre for just £10.00 for 55 minutes! The offer is available every Friday from 9am to 4pm until Christmas. There are two pitches available so please book where possible to avoid disappointment.  The outdoor 5-a-side pitches have recently been resurfaced with top of the range 3G artificial turf! Off-peak rates also available every day before 4pm.
For all enquiries or to make a booking, please contact:
Armitage Centre reception on 0161 306 9988
Staff running group introduces new Monday beginners' run!
The staff running group which has been set up in conjunction with Run England is introducing a new session on a Monday at 1:00pm for beginner runners only. This group is aimed at those who have not run before and will combine walking and running exercises. It is set to run from Monday 21 November for four weeks (minimum number required).
The group will meet at Denmark Road Sports Hall and there will be access to locker facilities for a £1 (refundable) fee. The Tuesday and Thursday running groups will run as normal from 12 noon.
If you are interested in joining the group and/or would like more information, please contact:
NEW! Drop-in Zumba class at the Sackville Street Building!
Get ready for the weekend with a new drop-in Zumba class every Friday from 12noon – 12:45pm at the Sackville Street building (Floor H, Room 11). The class is open to all levels of fitness and abilities and will have you moving and shaking to the infectious rhythms and simplified dance patterns of Zumba! The class is just £3.50 per session and you will need to pay the instructor on arrival.
For more information, contact: