News from SPORT Manchester
09 Nov 2011
Parkrun's second birthday (12 November) * Staff running group beginners' session * Drop-in Zumba class at Sackville Street Building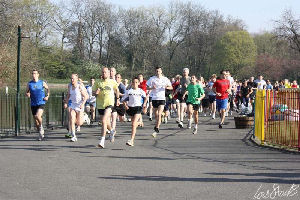 Parkrun celebrates its second birthday!
The Platt Fields Parkrun is two years old on Saturday 12 November and in celebration of this fantastic achievement there will be free refreshments for all runners at the end of the course. The run starts at 9am on Saturday morning from the Lakeside Centre in Platt Fields Park, Fallowfield. Every week more than 100 people turn up to complete the 5km course, from club runners to absolute beginners! It is completely free and the whole family are welcome so come along and join the fun.
Please register first at:
Staff running group introduces new Monday beginners run!
The staff running group which has been set up in conjunction with Run England is introducing a new session on Mondays at 1pm for beginner runners only. This group is aimed at those who have not run before and will combine walking and running exercises. It is set to run from Monday 21 November for four weeks (minimum number required).
The group will meet at the Active Lifestyles Centre on Denmark Road (corner of Cecil Street) and there will be access to changing facilities for a small fee. The Tuesday and Thursday running groups will run as normal from 12 noon.
If you are interested in joining the beginners' group or would like more information, please contact:
NEW! Drop-in Zumba class at the Sackville Street building!
Get ready for the weekend with a new drop-in Zumba class every Friday from 12 noon to 12.45pm at the Sackville Street Building (Floor H, Room 11). The class is open to all levels of fitness and abilities and will have you moving and shaking to the infectious rhythms and simplified dance patterns of Zumba! The class is just £3.50 per session and you will need to pay the instructor on arrival.
For more information: