Beat public transport price rises - reminder
06 Dec 2011
Apply by 13 December to get your train, Metrolink and County Card annual tickets at this year's prices.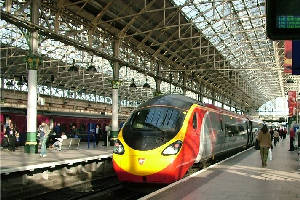 As a Staff Benefit scheme and as part of the University's commitment to Sustainable Travel Planning, The University offers an interest free loan scheme for annual public transport tickets (bus, train, tram and combination).
Purchasing tickets this way allows staff to benefit from more economical annual tickets that work out more cost effective than daily, weekly and monthly tickets. We also access some corporate discounts as part of the scheme. Overall savings range depending on the price of the ticket, but many members of staff save hundreds of pounds!
In addition, many of you request train and County Card tickets (GM bus and train ticket) to start at the end of December in order to get their ticket at that year's price.* This increases the savings even further if prices go up the following year.
Get your applications in now
Anyone wishing to renew or start a new ticket before the end of the year should take their application to their local HR team before Tuesday 13 December in order that we can get your ticket to you before the Christmas break. Applications can be made as of now.
Details of how to apply are online at:
Please make this information available to members of staff who do not have regular PC access.
-----
* As many of you will have seen, there are press reports that train prices are set to increase, some by around 7%. Although no official prices for 2012 are available currently it does seem certain that prices will increase. Train, Metrolink and County Card tickets are set to increase on 1 or 2 January so make sure you request your ticket to start up until 31 December. Other modes of travel and operators alter their ticket prices at different points in the year.