Launch of major University nuclear centre
07 Nov 2011
A major launch event for a new nuclear research centre will take place this week at The University of Manchester.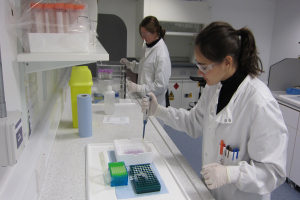 More than 120 delegates from industry, commerce and academia will attend the launch of the Research Centre for Radwaste and Decommissioning (RCRD) on Wednesday [November 9th].
The launch will highlight the research carried out by academics working within the centre and their collaborations with a range of partners. This work is focussed on the geosphere/biosphere, engineering and materials aspects of nuclear waste disposal and nuclear decommissioning as the UK seeks safe, long term solutions for handling our complex nuclear legacy.
Since the centre began its first operations last year, more than £5m of research funding has been awarded for major projects including:
·                     Research into aspects of the safe storage and disposal of the UK's radioactive wastes that will inform and underpin the safety case for a deep geological disposal facility.
·                     Research into aspects of the decommissioning of the UK's existing legacy of nuclear power stations and other installations containing radioactive contamination.
The launch event also coincides with the opening of a new laboratory suite where state-of-the-art research with radioactive and biological materials will take place. The "Radionuclide Biogeochemistry Laboratories" were funded by the University as part of the investment in the RCRD. A tour of this facility is planned on November 9th.
Delegates from companies and organisations such as the Nuclear Decommissioning Authority Radioactive Waste Management Directorate and Environment Agency, AWE, National Nuclear Laboratories, Parsons Brinckerhoff, SERCO and academic institutions from across the UK are expected at the launch event.
Held in the Great Hall in the Sackville Street Building from 10.15am onwards, the event will be opened at 11am with a welcome address by Professor Colin Bailey, Vice-President and Dean of the Faculty of Engineering and Physical Sciences, followed by an overview of the centre by the Executive Director, Professor Richard Pattrick.
There will then be talks from nuclear engineer Dame Dr Sue Ion as well as the two Research Directors from the centre, Professor Katherine Morris (geodisposal) and Professor Anthony Banford (decommissioning).
Professor Morris said: "It is important to recognise that nuclear waste disposal and decommissioning are major challenges for society."
"We are delighted with the successes of the RCRD over the last 12 months and we look forward to welcoming our guests to the University to explain who we are and what we do."
"We very much look forward to forging new links with partners in industry and academia which is essential both to address this most complex of tasks and to gain public confidence in our research activities."