University launches President's Doctoral Scholar Award
01 Nov 2011
The University of Manchester is taking bold steps to attract highly talented graduates to undertake leading-edge doctoral research.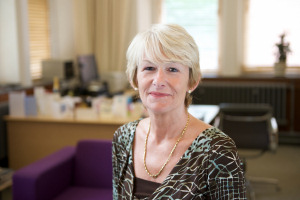 Manchester will invest in more than 100 elite studentships every year through the President's Doctoral Scholarship Award scheme, launched this week by Professor Dame Nancy Rothwell.

Prof Rothwell, President and Vice-Chancellor of The University of Manchester, said: "The UK's research base offers an excellent platform for future research leaders to develop their careers. Our investment announced this week will help Manchester to retain and attract the very brightest PhD students in the face of increasingly fierce competition from the USA, China and India."

These prestigious studentships carry the association of the University's President and Vice Chancellor, and will be of interest to the highest calibre of student who has the commitment and desire to work on challenging projects in world leading research environments. 
As an award-holder they will not only receive full funding for their doctoral studies but also an additional £1000 enhancement. 

Vice-President for Research at Manchester, Prof Luke Georghiou, said: "Governments overseas are investing heavily in higher education, but we believe schemes such as the President's Doctoral Scholar Award will give the brightest scholars from the UK and around the world a foundation to support research training with world class academics across a full range of subjects.

"This programme will allow us to increase the number and quality of doctoral candidates at The University of Manchester, whilst establishing a cohort of ambassadors for the University."

PDS Award students will also be invited to attend a series of exclusive events where they will have the opportunity to meet the President and Vice-Chancellor, interact closely with the University's academic community and network with other PDS Award students. In addition, each PDS Award student will receive a President's Doctoral Scholar medal at graduation.

Research is at the heart of The University of Manchester and the quality, breadth and volume of research activity is unparalleled in the UK, with strong collaborative links with industry and public services. Following a visit to the University's graphene labs recently, Chancellor of the Exchequer George Osborne said: "Tomorrow's world is being shaped here in Manchester," referring to its reputation as a hub for research excellence.

Each year, the University attracts more than £250 million of research funding from external sources and invests a further £96 million into research. Manchester is placed in the top three universities for securing grant funding from the main UK engineering, science and bioscience research councils.

The President's Doctoral Scholar Awards will be available across the University in a wide range of disciplines. For more information visit www.mdc.manchester.ac.uk/funding/pdsaward