Student Barometer Survey
01 Nov 2011
The University and the Students' Union are asking students to participate in an online questionnaire on a wide range of issues.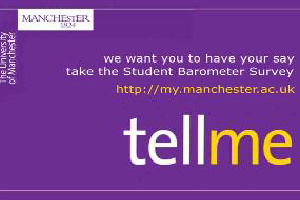 Run by i-Graduate, the Student Barometer is a questionnaire open to all students including postgraduate researchers and asks about all aspects of their student experience.
The questionnaire is run twice in the academic year, in October and April, allowing the monitoring of changes in students' responses, comparing expectations with reality.
The same core questionnaire is completed by students at other UK institutions and internationally, allowing the University to compare its students' satisfaction with that of those elsewhere.
Although populations of students have been surveyed periodically, the University has not asked the whole student body for its views on their experience at Manchester since 2009.
The Student Barometer survey, which is being run as a pilot this year, represents a fresh approach to effectively capturing the views of our students on a wide range of issues.
The qualitative and quantitative data gathered about what students expect from the University will be used to inform plans to enhance current provision. The University will work closely with UMSU both to promote the Student Barometer survey and to work with its results.
The first wave of results will be available in the New Year and will be used to quickly identify priorities for action and to inform initiatives across the University. In particular, they will be vital to the development of the Student Charter and the University's Student Experience Strategy.
Staff in schools are being asked to get involved in promoting the survey wherever possible, to increase response rates; for example, by announcing the survey in lectures, mentioning it in regular communications and discussing it in staff-student meetings.
There will be a prize of £1,000 for the School which achieves the best response rate (% of student population) which can be used for a student-related initiative, as decided by the School and its students.
Students who take part in the questionnaire will have the opportunity to enter a prize draw for prizes of up to £200 of Amazon vouchers.
The survey opens on 24 October for four weeks, and runs until Friday 25 November.
For more information: