Free lunchtime concert by Quatuor Danel
28 Sep 2011
On Thursday 29 September 2011 (1.10pm) in Cosmo Rodewald Concert Hall, Martin Harris Centre for Music and Drama.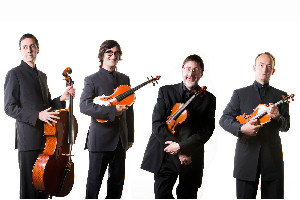 Haydn Quartet in C, Op. 76, No. 3, 'Emperor'
Dvořák Quartet No. 12 in F, Op. 96, 'American'
To launch their autumn season at the University, two of the most tuneful and enduringly popular works in the repertory: Haydn's 'Emperor', with its famous variations on the Austrian national anthem, and Dvořák's irresistible 'American'.
This performance will be followed at 2.30pm by a seminar in which Professor Barry Cooper's reconstruction of the original slow movement of Beethoven's String Quartet in G, Opus 18 Number 2, will be played by the University's resident string quartet Quatuor Danel.
FREE – no need to book, just turn up.
Further information online at: