What's On at The Manchester Museum
28 Sep 2011
Unearthed: Ancient Egypt (30 September 2011-6 September 2012) * Asia Triennial Manchester 11 (1 October) * BBC Planet Dinosaur Tour (1-9 October) * Grandparents' weekend at The Manchester Museum, Whitworth Art Gallery and Manchester Art Gallery (1-2 October)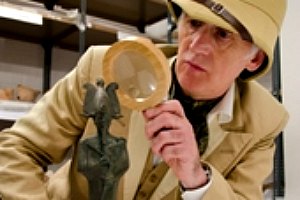 Unearthed: Ancient Egypt
30 September 2011-6 September 2012
Free entry
Calling all budding archaeologists. We need your help!
Our Egyptologist Dr Digby (played on film by Terry Deary, author of Horrible Histories and Egyptian Tales) has collected so much from his years of exploration and discovery in Egypt, that he hasn't had enough time to investigate and record it all. He and his team have discovered lots of objects, including toys, farming tools, stone carvings and burial goods, which can help us understand the ancient Egyptians' home life, working life, language and beliefs. We need your help to complete the unfinished tasks. Join us in the 1920s in our Egyptologist's storeroom for your training, claim your archaeologist's certificate and get to work.
Some of the objects in the exhibition will be going on display in our new Ancient Worlds galleries, opening late 2012. So we can create these new galleries, the Daily Life section of Ancient Egypt is now closed but most of our mummies and our archaeology collection will stay on display until February 2012.
-----
Saturday 1 October, 2.15-3pm
Asia Triennial
Join us for an opportunity to find out more about the work of performance artist Enkhbold Togmidshiirev from Mongolia and his residency project in Manchester.
During this year's Asia Triennial Manchester, Enkhbold Togmidshiirev will be visiting Manchester for a two week residency. In his performances, Enkhbold uses his own scaled down, self-built version of a ger; the mobile circular living structure traditionally used by nomadic Mongolian families. Hosted initially by The Manchester Museum and then by Islington Mill, Enkhbold will move his ger from site to site using performance to reveal and reflect on his heritage, its culture and traditions in relation to the new contexts in which he finds himself.
Enkhbold Togmidshiirev's residency project is co-commissioned by The International 3 and Shisha with support from Visiting Arts.
Drop-in, free
-----
Saturday 1-Sunday 9 October
BBC Planet Dinosaur Tour
More types of dinosaur have been discovered in the last two decades than in the 200 years before. Many of these discoveries are from places we never realised even had dinosaurs. The opening up of China, exploration in the Arctic and the Antarctic and prospecting in the Sahara has led to the discovery of a new generation of bigger, badder and more bizarre dinosaurs.
This autumn the BBC will bring these incredible new dinosaurs to life, encouraging audiences to take their own investigative journey into the fascinating world of prehistory and palaeontology. BBC Learning has joined up with museums and science centres across the UK to embark on a BBC Planet Dinosaur Tour for 56 days throughout October to November.
At the dinosaur experience people will be able to build large-scale reproductions of Spinosaurus, the largest ever known land predator and learn more about the dinosaurs in the TV series.
Everyone is welcome, especially families.
Specifically the Tour aims to encourage people to understand the role of palaeontologists through scientific enquiry; explore the links between Spinosaurus and other dinosaurs; learn when dinosaurs lived and how that time-line relates to human evolution.
You can find the BBC Planet Dinosaur Tour at The Manchester Museum 1-9 October.
Free, drop-in (you may need to book a time-slot on the day, when you arrive at the Museum).
-----
Saturday 1-Sunday 2 October
Grandparents' weekend at The Manchester Museum, Whitworth Art Gallery and Manchester Art Gallery
The Manchester Museum, Whitworth Art Gallery and Manchester Art Gallery are keen to open their doors to all the grandparents of Manchester and beyond. All three venues have lots of fun, free activities which you can do with your grandchildren. All our family activities are open to everyone, but over the weekend of 1-2 October for Grandparents Day there are even more activities to welcome grandparents.
The Manchester Museum
Saturday 1 and Sunday 2 October: Unearthed: Ancient Egypt & BBC Planet Dinosaur Tour
Bring your grandchildren along to our Unearthed: Ancient Egypt exhibition, where you can journey back to the 1920s to our Egyptologist's storeroom for some archaeological training and help our Egyptologist (played on film by Horrible Histories' Terry Deary) investigate his finds. Or build large-scale reproductions of Spinosaurus, the largest ever known land predator, as we're being visited by the BBC Planet Dinosaur Tour.
Drop-in, free    
Saturday 1 October, 11.30am: Family Friendly Film Club
Screening of short films about grandparents, including Diary of a Spider and Grandma Beijing.
Drop-in, free
    
Wednesday 5 October, 3-4pm: Unearthed: Ancient Egypt - Taster session for grandparents
Have a cup of tea, see Museum objects and find out about our latest projects.
Drop-in, free
Whitworth Art Gallery
Sunday 2 October, 1.30-3.30pm: Shadow Play – Grandparents Day
Bring along your Grandparents for a fun afternoon of shadow play and create your own puppet to take home.
Drop in, free
Manchester Art Gallery
Saturday 1 October, 1- 3pm: Family art club – Grandparents Day Special
Rebel, rebel! You're never too old to reveal your rebellious streak. Break the rules and make art with your grandchildren in our hands on art workshop. Make a badge and protest sign to take home.
Drop-in, free
-----
To find out more: