A thousand jobs in Manchester
27 Sep 2011
A thousand unemployed people have now been found work thanks to the efforts of the city's two universities to recruit workless residents.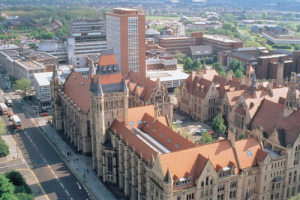 The University of Manchester and Manchester Metropolitan University have been working with not-for-profit agency Aspire to recruit unemployed people for positions in both universities. Despite this year's rising unemployment figures, they have continued to buck the trend by helping people find work.
Steve Grant, Assistant Director of HR at The University of Manchester, said: "We found that very few local, unemployed people were applying for jobs at the Universities. Both organisations looked at this issue and then in 2008 we engaged with Aspire to recruit more people who might otherwise have thought a job in a university was beyond them. 
"I'm delighted to say we've had great success in raising awareness of the jobs on offer and our recent recruits are now making a tremendous impact. As major employers in the city we are pleased that our work with local communities is leading to such success."
Nine out of the 10 people Aspire puts forward for a vacancy get the job. This is because most candidates are provided with job-relevant training before they are submitted for interview. Out of the 1,000 people recruited so far, 98% had been unemployed for at least six months. Aspire is part of the Manchester Solutions Group.
Ian Kerr, Employer Services Director at Manchester Solutions, said: "What we've achieved so far is testament to the positive approach adopted by the two universities and really demonstrates how employers can benefit from using different recruitment approaches.  The key here has been to encourage very able individuals who are perhaps low in confidence or have misconceptions about what it's like to work in a university.  Many of them didn't realise what a wide range of jobs are available.
"We're very proud to have hit the 1,000 mark, particularly at a time when unemployment is still such a serious factor locally."
Susan Griffiths from Hulme is the thousandth employee recruited by the universities. She had previously worked in a number of roles including hairdressing, as a gym instructor and in administration and customer service. She was made redundant from her previous role as a customer service adviser and had been looking for work for six months but without any success.
Aspire interviewed Susan and began to search for customer service and administration roles and placed her in a position in the Accommodation Office at The University of Manchester, where she was able to utilise her previous customer service experience.
Susan said: "I came in to see Aspire and five minutes after my registration someone came out to see me as he thought I would be perfect in customer service roles. He discussed the opportunity at the Accommodation Office at The University of Manchester and a week later I had started in the role.
"I am really enjoying it at the university and I am looking forward to my next assignment and my next challenge. I am like a changed person. Finding work again has brought back my confidence and my friends and family have commented on how much happier I am than two months ago."
Susan first got in touch with Aspire when she visited The Works employment Centre in Moss Side. The Works has also been set up in one of the key wards that the employers are   targeting. The Works is a one-stop-shop which helps people find jobs, develop their skills and access training courses and financial advice. It includes an IT resource centre, adult careers advice and is a base for Aspire and employer led pre-employment training. The centre, which is the only one of its kind in the North West, provides its services for free and is open to everyone.
She said: "I am very impressed with the service that I received from The Works and would recommend anyone looking for a job to visit them."
For more information about The Works go to www.theworksmanchester.co.uk
Key Facts
The North of England has been hit hard by the recession, but employment levels are expected to rise in 2012 with 130,000 new jobs being created over the next 15 years.

Employers are still struggling to fill around 25% of their vacancies because of a lack of skills, including softer skills such as communication, team building and customer handling.

Demand for higher skills is continuing to grow, with 75% of job opportunities requiring an NVQ 3 or above

There are over 25,000 vacancies currently available in Greater Manchester.

Public Administration, Education and Manufacturing are amongst the top five jobs being sought but are three of the lowest growth areas.