A more 'Visible Welcome' for new students
14 Sep 2011
The University is launching a range of activities to improve the welcome we provide to new students, including an 'ask me' campaign.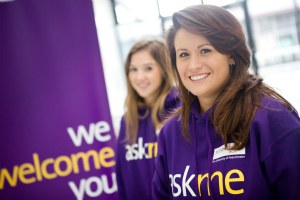 A Welcome Period Working Group, established by The Directorate for the Student Experience (DSE), is piloting a number of new initiatives for the start of the coming semester. These include:
A Visible Welcome (19 September - 1 October): Flags, banners and displays carrying welcome messages, and staff and student 'ask me' ambassadors to answer questions and pro-actively offer assistance;
Start of Year Fair in marquee next to University Place (20-21 September);
Improved provision in Halls of Residence (information sheets, collated information on events and activities in each Hall, Estates team support);
Provision for students living off-campus (Facebook group and special activity at the Start of Year Fair);
Welcome communications for students (new online induction resource, including a video message from the President).
For full information about the Welcome Period and contact details for each initiative, please visit the website: